Tamarind and the Star of Ishta by Jasbinder Bilan
Tamarind and the Star of Ishta by Jasbinder Bilan

the author of the Costa Award-winning Asha & the Spirit Bird comes a breathtaking, magical adventure ...
Tamarind never knew her Indian mum, Chinty, who died soon after she was born. So when she arrives at her ancestral home, a huge mansion in the Himalayas surrounded by luxuriant gardens, she's full of questions for her extended family. But instead of answers, she finds an ominous silence – and a trickle of intriguing clues: an abandoned hut, a friendly monkey, a glowing star ring, and a strange girl in the garden who calls herself Ishta. Slowly, Tamarind unravels a mystery at the heart of who she is ... 
If you need any more information or recommendations about this product please do give us a call on 01728 901166 or send us an email to shop@ottieandthebea.com
Standard Delivery (3-5 days): £3.95 (or free over £50)
Next Day Delivery call the shop to arrange
Click and Collect from the shop
Need help?
If you need any more information or recommendations about this product please do give us a call on 01728 901166 or send us an email to shop@ottieandthebea.com
Delivery
Standard Delivery (3-5 days): £3.95 (or free over £50)
Next Day Delivery call the shop to arrange
Click and Collect from the shop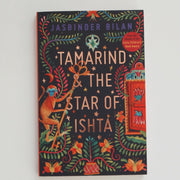 Tamarind and the Star of Ishta by Jasbinder Bilan