Stina by Lani Yamamoto
Stina does not like the cold. In fact, she will go to any length to avoid it. Even in Summer she will never go out without tights and socks that cover her knees. When Winter falls she retreats inside, knits, and invents ingenious devices to protect her from the slightest chill. The temperature drops further and Stina finally succumbs to the lure of her feather duvet and falls into a deep and dreamless sleep. She is woken by a pounding at the door, two kids tumble in blown by the icy wind and Stina learns that nothing can keep you as warm as friendship.
If you need any more information or recommendations about this product please do give us a call on 01728 901166 or send us an email to shop@ottieandthebea.com
Standard Delivery (3-5 days): £3.95 (or free over £50)
Next Day Delivery call the shop to arrange
Click and Collect from the shop
Need help?
If you need any more information or recommendations about this product please do give us a call on 01728 901166 or send us an email to shop@ottieandthebea.com
Delivery
Standard Delivery (3-5 days): £3.95 (or free over £50)
Next Day Delivery call the shop to arrange
Click and Collect from the shop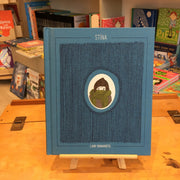 Stina by Lani Yamamoto