To the Edge of the World (Paperback) Julia Green (author)
To the Edge of the World (Paperback) Julia Green (author)
A beautifully written tale of courage, friendship, and survival. Imagine a tiny island far out in the Atlantic Ocean off the west coast of Scotland. On some days, you can hardly see where the sea ends and the land begins, everything merged in a blue-grey mist of sea spray and wind-blown sand. There is nothing between here and America. I say nothing, but what I mean, of course, is nothing but ocean. And about sixty-five kilometres out to sea, one last remote outcrop of islands and sea stacks, with the highest sea cliffs anywhere in the UK-St Kilda. Distant, desolate, and difficult to reach. The islands at the edge of the world . . .
If you need any more information or recommendations about this product please do give us a call on 01728 901166 or send us an email to shop@ottieandthebea.com
Standard Delivery (3-5 days): £3.95 (or free over £50)
Next Day Delivery call the shop to arrange
Click and Collect from the shop
Need help?
If you need any more information or recommendations about this product please do give us a call on 01728 901166 or send us an email to shop@ottieandthebea.com
Delivery
Standard Delivery (3-5 days): £3.95 (or free over £50)
Next Day Delivery call the shop to arrange
Click and Collect from the shop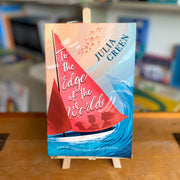 To the Edge of the World (Paperback) Julia Green (author)